Regular price
$178.47 USD
Regular price
$262.49 USD
Sale price
$178.47 USD
Unit price
per
Sale
Sold out
MORPHIX 084040-50 

Diborane

 Chemical Detection Cassettes (50 per box)
Generally In Stock for Immediate Shipping  
No Sales Tax and Free Shipping to your door. Brand new factory sealed. Authorized Morphix dealer
Made in USA
OUR COMPANIES, LIFE PROTECTORS AND SHEPARD SAFETY PRODUCTS, IN BUSINESS SINCE 1978, HAVE BEEN FOR MANY YEARS AN AUTHORIZED DISTRIBUTOR FOR MORPHIX TECHNOLOGIES (MORPHTEC) AND WE HAVE ONLY NEW FRESH INVENTORY DROP SHIPPED DIRECTLY FROM MORPHIX TO YOU.
IF YOU DON'T SEE THE MORPHIX PRODUCT OR PART NUMBER YOU ARE LOOKING FOR ON THIS SITE PLEASE LET US KNOW AND WE WILL ADD IT.   
| | |
| --- | --- |
| Cassette Shelf Life | 24 months at room temperature |
| Cassette Service Life | 24 hours |
| Temperature Range | -30ºC to 50ºC (-22ºF to 122ºF) |
| Humidity Range | 20% to 100% RH |
| Water Immersion (fresh or salt water) | 1 hour |
| Sensitivity at PEL concentration | Color change in <30 minutes |
| Sensitivity at one-half IDLH concentration | Color change in <5 minutes |
PEL means Permissible Exposure Limit, as defined by OSHA: "8-hour Time Weighted Average." – An employee's exposure to any substance, which shall not exceed the 8-hour Time Weighted Average given for that substance, during any 8-hour work shift of a 40-hour workweek.
IDLH means Immediately Dangerous to Life or Health: An atmospheric concentration of any toxic, corrosive or asphyxiate substance that poses an immediate threat to life or would cause irreversible or delayed adverse health effects or would interfere with an individual's ability to escape from a dangerous atmosphere. IDLH values are based on effects that might occur as a consequence of a 30-minute exposure.
Specifications: The chemical sensor in the Diborane cassette shows an easy to see color change. Half of the sensor window will change color. 
Diborane is a colorless gas with an offensive odor. It is toxic by inhalation. Diborane is decomposed by 

water

 giving off 

hydrogen

, another flammable gas and 

boric acid

 a non-regulated material. Its vapors are heavier than air. Long term exposure to low concentrations or short term exposure to high concentrations can result in adverse health effects from inhalation. It is used in electronics. Rate of onset: Immediate Persistence: Minutes to hours Odor threshold: 2.5 ppm Source/use/other hazard: Intermediate chemical manufacturing; very flammable.

Diborane is a colorless gas at room temperature with a repulsive, sweet odor. It mixes well with air and easily forms explosive mixtures. Diborane will ignite spontaneously in moist air at room temperature. Diborane is used in rocket propellants, as a reducing agent, as a rubber vulcanizer, as a catalyst for hydrocarbon polymerization, as a flame-speed accelerator, and as a doping agent. It is also used in electronics to impart electrical properties in pure crystals.
 The Chameleon is the only hands-free, power-free, chemical detector for gases and vapors in air, allowing First Responders, Firefighters, EMS, Police Officers and Military to detect the presence of hazardous chemicals. No liquid sample required. The Chameleon may even be immersed in salt water or fresh water without affecting its performance. Developed under funding by the United States Marine Corps, the Chameleon is ideal for users to screen unknown hazards in their environment
Share
View full details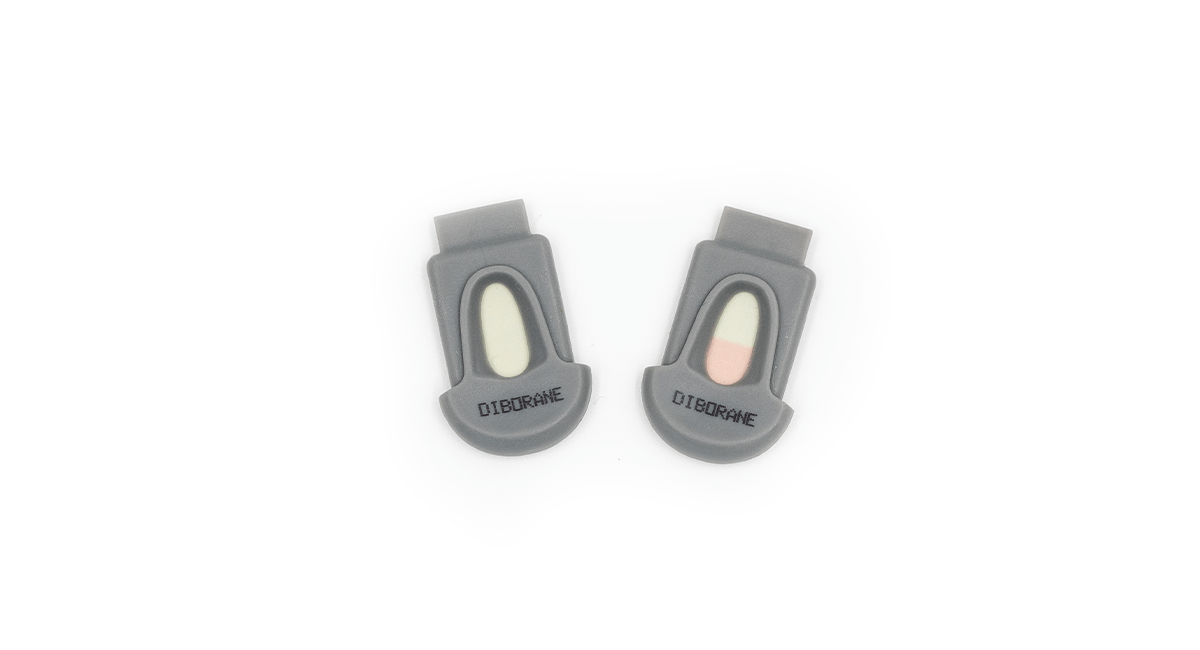 Free Shipping

We offer FREE SHIPPING in the 48 United States and NO SALES TAX Anywhere!

Prices you can't beat!

We guarantee the lowest prices. If you find a lower price, please contact us and we will do our best to match or beat that price!