Regular price
$364.97 USD
Regular price
Sale price
$364.97 USD
Unit price
per
Sale
Sold out
Nuclear Survival Kit Designed for Rapid Deployment

NO Sales or Local Tax Anywhere and Free Shipping
Choose from the CM-6M or CM-7M CBRN gas masks, both offer a CamelBak compatible drinking system and 20-year shelf life
Conveniently packed in the MIRA Safety drop-leg gas mask pouch for rapid deployment
Used in a wide range of professions from law enforcement, firefighting and rescue to military special operations, painting and construction
Kit includes 20 FDA-approved ThyroSafe Potassium Iodide Tablets (65mg each), and the NBC-77 SOF gas mask filter.
Combines NBC-77 filter, canteen, Thyrosafe tablets, leg-mounted pouch and full-face respirator for a convenient, portable CBRN protective package
5 year warranty for long term service
Trusted worldwide by multiple police and government agencies in the Czech Republic, Norway, Portugal, Chile, Saudi Arabia, Turkey, Kuwait, Latvia and Lebanon
The most complete gas mask and NBC survival kit on the market. Includes military-grade gas mask, compatible NBC-77 SOF CBRN filter, potassium iodide tablets, and a leg-mounting pouch.
 The kit is easy to store in your house or car for preparedness anytime. Beyond major catastrophes, this gas mask kit is useful in case of a fire or poor air quality. 
Key Features:
CM-6M Tactical Gas mask and NBC-77 SOF Filter provide a 20-year shelf life
20 FDA-approved ThyroSafe™ potassium iodide tablets (65mg each), with an extended shelf life of 7 years 
STANAG 4155 (EN 148-1) compliant 40mmx1/7" NATO threaded filters
Filter composed of sorbents with active and impregnated carbon, housed in impact-resistant polymer filter housing
5-point helmet-compatible straps secure mask for up to 30 hours of resistance from toxins
Pre-installed hydration spout and external canteen
Works with external canteens & Camelbak hydration systems using a Type M adapter
Scratch-resistant polycarbonate visor provides 180-degree visibility with hypoallergenic inner mask that prevents fogging
MIRA Safety Elite Drop-leg Gas Mask Pouch is constructed from durable 500 denier ripstop nylon
Secured Y-harness configuration with heavy-duty straps and quick-release swivel buckles
Technical Specifications:
With over 450 active nuclear reactors in the world today, it's prudent to take precautions in case of disaster. 
Featuring cutting-edge engineering and design, the CM-6M gas mask is crafted from bromobutyl rubber with a hypoallergenic inner mask for superior comfort and function. Dual-layer construction helps prevent fogging and makes breathing easy. Equipped with a speech diaphragm ensuring 95% intelligibility of speech, you can communicate with members of your party through the mask.
The included potassium iodide tablets help prevent thyroid damage from fallout and excess radiation, which dissipates up to 200 miles downwind from a nuclear catastrophe. It is advised you take the tablets before or soon after exposure to excessive radiation levels.
The included ThyroSafe™ tablets are the only FDA-approved tablets available in the US—ideal for adults, with a cross-score to provide reduced dosing for children. A single dose of potassium iodide protects the thyroid for about 24 hours—any radioactive iodine taken into the body after dosing is rapidly flushed out. 
The MIRA Safety drop-leg pouch holds the entire kit while mounted out of the way on your leg. Featuring rugged construction designed to withstand abuse without tearing, the pouch comes with a flexible mounting system and padded back for comfort.  
NOTE: The CM-6 mask is one size only. While the 5-point harness provides a flexible fit, the user's face must be free of facial hair with no obstructions in the way of the sealing gasket. The mask enables the use of a glasses insert (sold separately), which insert into the mask's rubber slip.
Filters can be fitted to the left or right inhalation chamber. The unused chamber must be sealed with a filter plug. Ensure the filter plug is tightened and screwed into place. Each inhalation chamber is fitted with EN 148-1 standard 40 mmx1/7" thread. Ensure your filters are compatible. 
The effectiveness of the filter depends on the toxins in your environment. The included NBC-77 SOF filter is designed for use in environments with at least 19.5% oxygen (lower oxygen levels will necessitate a SCBA). The filter is designed to offer protection from radioactive particles, viruses, bacteria, gases, vapors and a range of noxious fumes. 
Kit Includes: 
CM-6M or CM-7M gas mask
(20) potassium iodide tablets (65mg)
MIRA Safety drop-leg gas mask pouch
(1) NBC-77 SOF filter 
Canteen
Technical Data:
Dimensions: 11"Hx5"-7.25"Wx4"D Cuff pouch: 4"Hx2.25"-4.5"W
Weight: 1,286 grams
Size: One size (CM-6M). For NBC kit with CM-7M choose correct sizing.
Material: Bromobutyl rubber mask with polycarbonate visor, 500 denier ripstop nylon pouch
General Field of Vision: min. 70%
Binocular Field of Vision: min. 80%
Filter Connection Thread: EN 148-1 Standard 40mmx1/7"
Breathing Resistance at 30l/min. Air Flow:
Inhalation resistance max. 30 Pa
Exhalation resistance max. 60 Pa
Share
View full details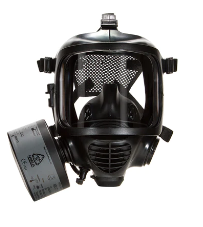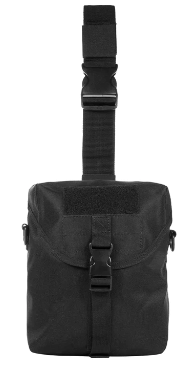 Free Shipping

We offer FREE SHIPPING in the 48 United States and NO SALES TAX Anywhere!

Prices you can't beat!

We guarantee the lowest prices. If you find a lower price, please contact us and we will do our best to match or beat that price!