Regular price
$184.97 USD
Regular price
Sale price
$184.97 USD
Unit price
per
Sale
Sold out
MIRA 
M-MDU10
 Military/Tactical 
M4 CBRN
Poncho NO Sales or Local Tax and Free Shipping!  Available in Black, Blue, or Camo  
USE CODE "MIRA5" FOR 5% OFF YOUR ENTIRE ORDER!  
The M4 Tactical Poncho is a simple practical solution to a spectrum of nuclear, biological, and chemical threats. Using cutting-edge polyamide construction, it provides an insulating barrier that protects your skin from CBRN threats for over two hours—while doubling as a practical weatherproof poncho. Military-designed, discreet, compact, and effective, the MIRA Safety M4 CBRN Military Poncho is a 
must-have 
for your CBRN suit.
KEY FEATURES OF THE M4 CBRN MILITARY PONCHO:
Lightweight and compact

Offers proven protection from CBRN threats in gas and aerosol/liquid form, preventing contact with skin and equipment

Engineered by the Serbian military to provide practical, convenient, cost-effective protection from a range of threats (from mustard gas to nuclear fallout)

Designed to work with MIRA Safety gas masks and HAZ-SUIT's to provide additional, flexible protection

Crafted using special polyamide material that's flexible and easy to wear

Tear-resistant construction ensures it's durable enough for rugged use in the field

 

Available in 3 sizes (small, medium, and large; large fits those over 70" tall). See our listings for sizes now shown in this listing.

Color: Camo

Weighs just 23 ounces and easily stores into a backpack pocket

15-year shelf life when kept in its original packaging

Tested and found to meet all requirements in accordance with the Military Standard of the Republic of Serbia (PKP 6468/07).
Compact, Total-Body "Under-the-Radar" CBRN Protection
The M4 CBRN Poncho has the same basic look and feel as a standard army poncho/USGI poncho—but in reality it's an advanced CBRN protection garment.
The key is its all-new polyamide construction, originally developed by the Serbian military and currently deployed in the field.
This new technology allows the M4 Poncho to be breathable while still offering an unparalleled level of protection against things like nuclear fallout or contaminants that can enter the body through the skin ('blister agents' like mustard gas are notorious for this and were specifically used in testing).
The material is weatherproof like a normal military raincoat poncho, providing hours of reliable protection in temperatures as low as -30ºC or as high as 50ºC. Puncture-resistant and designed to be reused, this military-grade poncho is ideal for regular duty use, camping, or hiking.
Our tactical poncho is more inconspicuous than wearing a full hazmat suit, yet it's also flexible enough to work as part of a larger CBRN suit. It's available in three sizes and colors, and comes with a 15-year shelf life for peace of mind and simplified logistics.
Practical, discreet, affordable, flexible, and convenient, our MIRA Safety CBRN Military Poncho is the perfect upgrade for almost any PPE kit.
For any order, large or small, while supplies last we will include an emergency AM/FM radio with flash light, emergency blinker, siren.  Once the emergency radios are gone we will send you a $20 coupon for use on your next order.
M4 CBRN MILITARY PONCHO TECHNICAL DETAILS:

S-yperit (mustard drops) testing of materials and seams

Contamination Density:

11 ± 1 mg S-yperit / 10 cm2

Breakthrough Density of Contamination:

5 µg S-mustard / 1 cm2

Test Tube Dimension:

Ø 20 mm

Test Temperature:

23 ± 1 ° C

Protection Capacity:

>120 minutes (drop by drop method)

Tensile Strength of the Coated Fabric:

Over 500 N/5cm in the longitudinal direction
Over 400 N/5cm in the transverse direction
The tearing resistance of the coated fabric is over 30 N/epr in both longitudinal and across direction.

Shelf Life (in storage):

15 Years

Weight:

<650g

Available Colors:

M-MDU-10 (Serbian Digital Camo), Black, Navy Blue
SIZE GUIDE
Small: 
For operators up to 170cm (5'7)
Medium: 
For operators between 170cm - 180 cm (5'7 - 5'11)
Large: 
For operators over 180 cm (5'11)
SEE OUR OTHER LISTINGS FOR SIZES NOT SHOWN IN THIS LISTING.
M4 CBRN MILITARY PONCHO STORAGE
Each M4 CBRN Military Poncho ships in a vacuum-sealed, water-resistant cube that's easy to store, handle, and carry. The protective M4 overcoat in its original package should be stored in a dark room within a temperature range of +5°C  to +25°C and relative humidity of 60% ±10%. In its original package, the overcoat has a 15-year shelf life.
 Authorized MIRA dealer 

WE AT ARE AN AUTHORIZED MIRA SAFETY DEALER AND HAVE BEEN IN THE BUSINESS OF SUPPLYING MILITARY, POLICE, FIRE, GOVERNMENTS, FIRST RESPONDERS, EMS, INDUSTRY AND PUBLIC FOR OVER 43 YEARS.  THESE PRODUCTS, ESPECIALLY FILTERS (OPTIONAL) HAVE A SHELF LIFE, SO WE NEVER KEEP THEM SITTING ON OUR SHELVES.  WHEN YOU PLACE YOUR ORDER WE IMMEDIATELY PROCESS AND HAVE MIRA DIRECT YOUR ORDER THROUGH OUR WAREHOUSES FOR RAPID DELIVERY TO YOU SO YOU WILL ALWAYS RECEIVE THE FRESHEST MERCHANDISE. 
Share
View full details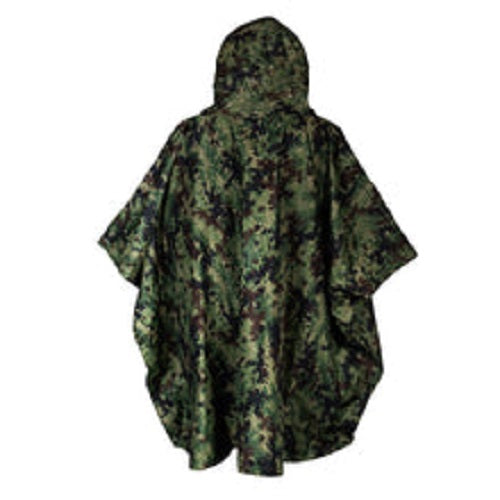 Free Shipping

We offer FREE SHIPPING in the 48 United States and NO SALES TAX Anywhere!

Prices you can't beat!

We guarantee the lowest prices. If you find a lower price, please contact us and we will do our best to match or beat that price!