Regular price
Sale price
$69.97 USD
Unit price
per
Sale
Sold out
Draeger NA10752 Wildland Respiratory Protection Kit. Size Small. NO Sales or Local Tax and Free Shipping.  Economical kit: modern design and light weight half mask offers you extra protection and comfort. Wildland Respiratory Kit contains everything you need for long lasting protection under tough conditions.
Benefits Wildland Respiratory Kit | 03 Twin-filter half-face mask The Dräger Wildland Respiratory Kit includes the Dräger X-plore® 3500 half mask, Bayonet filters, cleaning wipes and a case for easy portability. The twin-filter system utilizes the Dräger X-plore® Bayonet filters to ensure effective, long-lasting protection. Comfortable: easy respiration with low resistance The innovative design of the respiratory protection mask ensures easy, comfortable breathing. A large opening on the exhalation valve keeps resistance low. The cascade-shaped nose bridge offers optimal distribution of pressure. The material of the masks also makes them comfortable to wear: the X-plore 3500 mask is particularly soft and skin-friendly because it is made of DrägerFlex material. First-class comfort is combined with exceptional durability.
Well-fitting: optimal fit for any face The positioning of the filters on the sides and the flat design of the masks provide maximum field of view and secure fit, even when worn with a protective visor. The Dräger FlexiFit head straps provide additional comfort. Thanks to the soft materials and ergonomic shape, the mask is a perfect fit for nearly any wearer. Even under a helmet, the head strap is hardly noticeable. Its innovative design makes it easy to don and doff without getting tangled in the wearer's hair. The special mask straps with their criss-cross pattern are simple to adjust, ensuring optimal distribution of weight and pressure so the mask is even more comfortable.
Safe: innovative features ensure optimal safety Dräger half masks are valued for their precision design which offers optimal protection. For example, the cascade shape of the valve creates an extra powerful seal. The specially designed, flexible nose bridge ensures an extra secure fit that contours perfectly to the face, even when worn with protective eyewear. The Dräger X-plore 3500 are equipped with two bayonet connectors on the sides for combination with the extensive Dräger X-plore bayonet filter series. These also provide a high level of safety: filters are so simple to attach it is practically impossible to mount them incorrectly.
Simple: improved product design for easy handling The mask is made of only a few parts. The advantage of this is fast easy cleaning. No special training is required, either to use the respiratory protection masks or to (dis)assemble them. The Dräger X-plore 3500 also features a drop-down strap design. Thanks to this, the mask can be removed simply by releasing the fastener at the neck without having to remove the helmet first, for example. When the mask is in the standby position, its inner side remains aligned with the body, protecting it from soiling.
Specifications Dimensions 8.5" x 5.9" x 3.5"
Weight Approximately 15.8 oz/ 450 g
Specifications Mask Body made of DrägerFlex – a durable material that is hypoallergenic.
Approvals: NIOSH approval
Share
View full details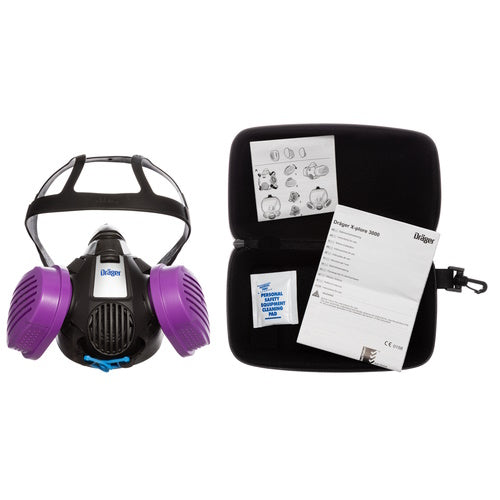 Free Shipping

We offer FREE SHIPPING in the 48 United States and NO SALES TAX Anywhere!

Prices you can't beat!

We guarantee the lowest prices. If you find a lower price, please contact us and we will do our best to match or beat that price!