Regular price
$1,589.97 USD
Regular price
$1,689.99 USD
Sale price
$1,589.97 USD
Unit price
per
Sale
Sold out
Draeger 4059490 C420 PAPR Complete System without Mask. NO Sales or Local Tax and Free Shipping. C420 Powered Air Purifying Respirator. NIOSH approved.
• Rugged design for the Domestic Preparedness market.
• Easy to decontaminate.
• Blower and battery compartment are completely sealed.
• Blower provides airflow up to 140 LPM.
• Efficient and light weight blower assembly.
• Flexible breathing tube.
• Disposable battery is standard having a 10-hour battery use life and a 10-year shelf life.
• Rechargeable batteries also available.
• Cartridge is constructed with an impact resistance housing
Draeger C420 is a powered air purifying respirator designed for use in responder and law enforcement applications.
Features
In response to the demand from law enforcement agencies and first-responders to have a live agent tested* unit with NIOSH approvals, a modified configuration of the Military C420 PAPR was approved by NIOSH. (TC-23C-2188) HEPA/OV/AM/CL/HC/MA. Our NIOSH -approved unit offers law enforcement agencies, first responders and the domestic preparedness market the safest Powered Air-Purifying Respirator (PAPR) unit available. Federal, State and local first responders and emergency medical care givers now have a higher level of protection.
The Draeger Safety C420 PAPR provides a constant, filtered airflow of between 115 and 140 lpm to the users facepiece thus providing users with a higher safety factor due to positive pressure in the mask. The airflow helps prevent the users facepiece from fogging and also greatly reduces breathing effort as the powered air flow greatly reduces the additional pulmonary stress associated with negative-pressure respirators. This reduction in stress facilitates heavy work performance even under extreme climactic conditions, greatly extending strength, ability and mental acuity by providing a high degree of comfort. This is due to the cooling effect of the filtered air into the facepiece and its comfortable fit, even after extended user wear times in humid, heated and highly stressful missions.
Unlike many unsealed commercial PAPRs, the C420 can be effectively decontaminated of NBC agents and other toxic industrial chemicals. The C420 Blower is air-tight and waterproof (with the three protective port caps properly installed) and may be fully submerged for decontamination. In addition the batteries may be hotswapped during use in a warm zone environment and the battery compartment is also is air-tight, waterproof and easy to decontaminate.
The C420 system, a powerful, efficient, lightweight and comfortable and affordable PAPR with top performing combination filter cartridges will help ensure your mission success by extending operational endurance.
For discounts on large volume orders, please contact us at 1-800-485-1338, steve@lifeprotectors.com or sales.lifeprotectors@gmail.com.
Share
View full details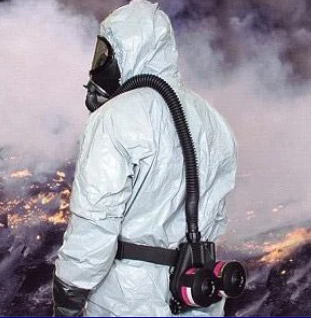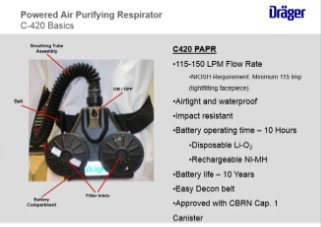 Free Shipping

We offer FREE SHIPPING in the 48 United States and NO SALES TAX Anywhere!

Prices you can't beat!

We guarantee the lowest prices. If you find a lower price, please contact us and we will do our best to match or beat that price!