Regular price
$542.05 USD
Regular price
$838.88 USD
Sale price
$542.05 USD
Unit price
per
Sale
Sold out
Chicago Protective Apparel AG12-JP Arc Flash Jacket and Pants Kit   No Sales or Local Tax and Free Shipping in sealed CPA carton directly from CPA factory to your door. Authorized worldwide CPA distributor 
Our 12 CAL Jacket & Pant Kit includes Jacket  Pant  Hard Cap  Face Shield with Chin Cup  Cap Bracket  Knit Nomex Hood  11" Class 0 Rubber Gloves  10" Leather Protector Gloves  12" Glove Bag  Gear Bag  Safety Glasses  Ear Plugs
IMPORTANT NOTE: BEWARE OF DISTRIBUTORS AND SELLERS OF CPA PRODUCTS THAT MIX AND MATCH OR DELIVER LESS THAN THE WHOLE KIT THAT COMES FROM CPA, SELLERS THAT DO NOT REQUEST

 

GLOVE SIZE OPTION, DON'T GIVE SHIPPING ESTIMATES, ETC. Everything we sell of Chicago Protective Apparel comes 100% COMPLETE directly from CPA so you get all products included.
IF YOU FIND A LOWER PRICE FOR THIS ITEM FROM ANY US DISTRIBUTOR, PLEASE CONTACT US.  WE, AT LIFE PROTECTORS LLC, ARE AN AUTHORIZED INTERNATIONAL CPA DISTRIBUTOR AND WILL MAKE EVERY EFFORT TO PROVIDE YOU WITH THE LOWEST PRICE OF ANY US DISTRIBUTOR.
IMPORTANT:  Our kits containing rubber protective voltage gloves, and glove kits, are shipped directly to you from CPA.  This is important because some vendors stock voltage protecting rubber gloves and kits with same, and the rubber gloves when stored improperly (near excessive heat, folded, etc), or for long periods of time before sale, can become ineffective and dangerous to use, thus require proper testing before being put into use. See below from OSHA about testing.
Testing and Inspection

. Gloves and sleeves must be electrically tested before being issued for use. They must also be visually inspected and gloves need to be air tested for any possible defects (for example, cuts, holes, tears, embedded objects, changes in texture) before each day's use and whenever there is a reason to believe they may have been damaged. Best practice is to inspect PPE and air test the gloves and sleeves before each use. [See 1910.137(b)(2)].
Insulating equipment may not be used if any of the following defects are present: holes, tears, punctures or cuts, ozone cutting or ozone checking, embedded foreign objects, texture changes, including swelling, softening, hardening, or becoming sticky or inelastic, and any other defect that damages the insulating properties. [See 1910.137(b)(2)(iii) and 

ASTM F1236-96

, Standard Guide for Visual Inspection of Electrical Protective Rubber Products].
 
Insulating equipment failing to pass inspection must be removed from service and may not be used by workers.

Protector Gloves and Storage

. To ensure worker safety and the integrity of the gloves and sleeves, insulating gloves need to be worn along with protector gloves (such as leather), and both insulating gloves and sleeves need to be stored properly when not in use. Proper storage means that gloves must not be folded and need to be kept out of excessive heat, sunlight, humidity, ozone, and any chemical or substance that could damage the rubber. [See 1910.137(b)(2)].





The proposed rule recognizes Class 0 and 00 gloves. See the proposed rule for additional information.

For additional information on the use of insulating gloves and sleeves, see ASTM F496, Standard Specification for In-Service Care of Insulating Gloves and Sleeves, and ASTM F1236-96, Standard Guide for Visual Inspection of Electrical Protective Rubber Products. Additionally, see 1910.137(b)(2).
LIFE PROTECTORS LLC IS AN AUTHORIZED WORLDWIDE DISTRIBUTOR FOR CHICAGO PROTECTIVE APPAREL.  WE WILL HAVE CPA SHIP DIRECTLY TO YOUR DOOR THE BELOW COMPLETE KIT WITH ALL LISTED ITEMS, IN A CPA SEALED CARTON.
WE CHARGE NO SALES TAX ANYWHERE.  CPA STOCKED ITEMS ARE SHIPPED WITHIN TWO BUSINESS DAYS.
Note: These are usually in stock at CPA factory warehouse. On occasion, a particular size may not be in stock and will have a short lead-time.  If there is any lead-time for your order, we will immediately inform you.
Share
View full details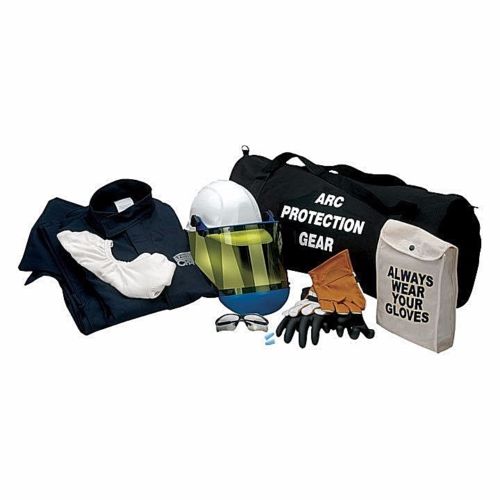 Free Shipping

We offer FREE SHIPPING in the 48 United States and NO SALES TAX Anywhere!

Prices you can't beat!

We guarantee the lowest prices. If you find a lower price, please contact us and we will do our best to match or beat that price!