Regular price
$537.57 USD
Regular price
Sale price
$537.57 USD
Unit price
per
Sale
Sold out
CHICAGO PROTECTIVE APPAREL AG20-CL COAT AND LEGGINGS  20 CAL KIT  
No Sales or Local Tax and Free Shipping in sealed CPA carton directly from CPA factory to your door. Authorized worldwide CPA distributor  Arc Flash Hazard and NFPA 70E Standard Arc flash events are unique and extremely dangerous exposures that workers encounter while doing electrical work. Although the majority of workplace electrical injuries result from electric shock, the burns from the release of intense radiant energy during an arc flash event can cause severe, and even fatal injuries. Temperatures can reach as high as 35,000°F, with fatal burns occurring even at distances over ten feet. Given how dangerous this hazard is, protective measures must be put in place for worker safety. According to the NFPA 70E, employers are required to perform an arc flash hazard analysis to determine the flash protection boundary distance. Based on the results of the analysis, employees must wear protective clothing for the corresponding PPE category, that has an ATPV of at least the value listed in the "Protective Clothing Characteristics" section of the standard. The NFPA 70E sets forth requirements and guidelines for the selection of arc flash clothing, such as coverage, fit, layering, and very importantly, the fabrics it is made of. Protective clothing made from arc-rated, flame-resistant materials, provide thermal protection, and will not continue to burn after the ignition source is removed. These fabrics protect the user by providing a thermal barrier, and minimize the injuries that result from clothing that continues to burn. The use and recognition of the NFPA 70E standard is growing more widespread, since the vast majority of major companies in the U.S. have some employees who work on or near energized electrical conductors or circuit parts. Garments that meet the ASTM F1506 and NFPA 70E are also in compliance with OSHA 29 CFR 1910.269 Electrical Power Generation, Transmission and Distribution, with regard to protective clothing not contributing to burn severity. In addition, the Department of Energy has required that federal and contractor employees comply with NFPA 70E, and the 2002 National Electric Code (NEC) references the standard. Finally, OSHA considers the NFPA 70E standard "a recognized industry practice."
WE HAVE CPA SHIP DIRECTLY FROM THEIR WAREHOUSE TO YOU SO YOU WILL ALWAYS RECEIVE THE FRESHEST PRODUCTS.
NOTE: GLOVES MUST BE TESTED AND CERTIFIED EVERY 6 MONTHS.  CPA TESTS AND CERTIFIES GLOVES OF YOUR ORDER JUST BEFORE SHIPPING.
WE AT Shepard Safety Products / LIFE PROTECTORS HAVE FOR MANY YEARS BEEN AN AUTHORIZED CHICAGO PROTECTIVE APPAREL DISTRIBUTOR. 
The following items come included in our 20 CAL Coat and Legging Kit:


Our 20 CAL Coat and Legging Kit includes the following items:


Coat: SWC-20
Leggings: SW-401-20
Hard Cap: HC-Color-SLT
Full Hood: SWH-20
Cap Bracket: HB-2-CAP
11" Class 0 Rubber Gloves: LRIG-0-11
10" Leather Protector Gloves: PG-0-ADJS
12" Glove Bag: GB-12
Gear Bag: 909-ARC
Safety Glasses: SW-SG
Ear Plugs: SW-EAR
Compare to National Safety Apparel, Oberon, Dupont, Lakeland
Share
View full details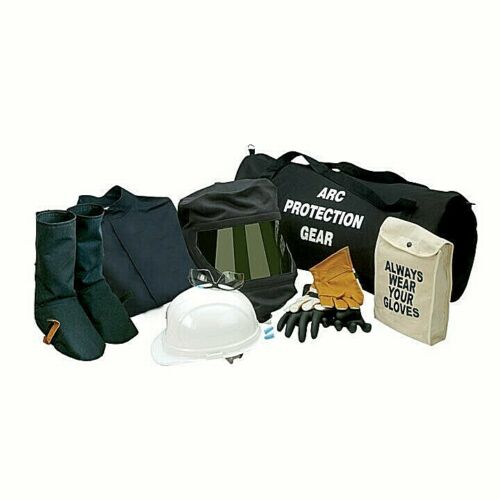 Free Shipping

We offer FREE SHIPPING in the 48 United States and NO SALES TAX Anywhere!

Prices you can't beat!

We guarantee the lowest prices. If you find a lower price, please contact us and we will do our best to match or beat that price!